Maritime vessels consist of various intricate pieces of machinery. Boilers and steam generators are two vital components, although one should choose them sparingly. There are many factors to consider, including type, size, mounting position, etc.

Breezemarine Group is the official representative of the Italian manufacturer of boiler equipment BBS Division, one of the largest European manufacturers of marine and industrial boilers, steam generators, and spare parts. We also work with other partners listed below.
Finding The Right Boiler Type
In the marine industry, you will come across two major types of boilers: The fire tube variety and the water tube counterpart. Both are viable options, depending on the requirements of your vessel and other preferences. 
Fire Tube Boilers
A fire tube boiler houses tubes submerged in water inside a shell to allow hot flue gas flow. Such machinery can pressure up to 10 bar and generate 14 tonnes of steam per hour. Moreover, it is versatile regarding load fluctuations tied to water volumes. 
In addition, they can be installed as wet or dry back designs. Only some vessels can accommodate a water wall at the back of the boiler, making refractory (dry back) a suitable alternative. It is the more expensive option and requires more maintenance, though.
Opting for a fire tube boiler means lower costs, fewer controls, and a straightforward operation. However, one must also consider a higher risk of explosion, poor circulation, and little steam pressure. 
Water Tube Boilers
The other main type is a water tube boiler, relying on water moving through tubes surrounded by hot combustion gases inside a shell. It is a more versatile system that allows for broader unit control. However, that also means it requires more expertise and comes with a higher initial cost. Due to its nature, it is also more complex to operate, but it is the more "modern" boiler type for maritime vessels today.
As the newer "version" of boiler technology, a water tube boiler has a higher initial cost. However, that cost enables broader flexibility and more efficient heat transmission. It can also adjust to steam demand and has higher efficiency, something every ship operator can benefit from. In addition, the higher cost enables a safer system to use inside a vessel, which is always priceless.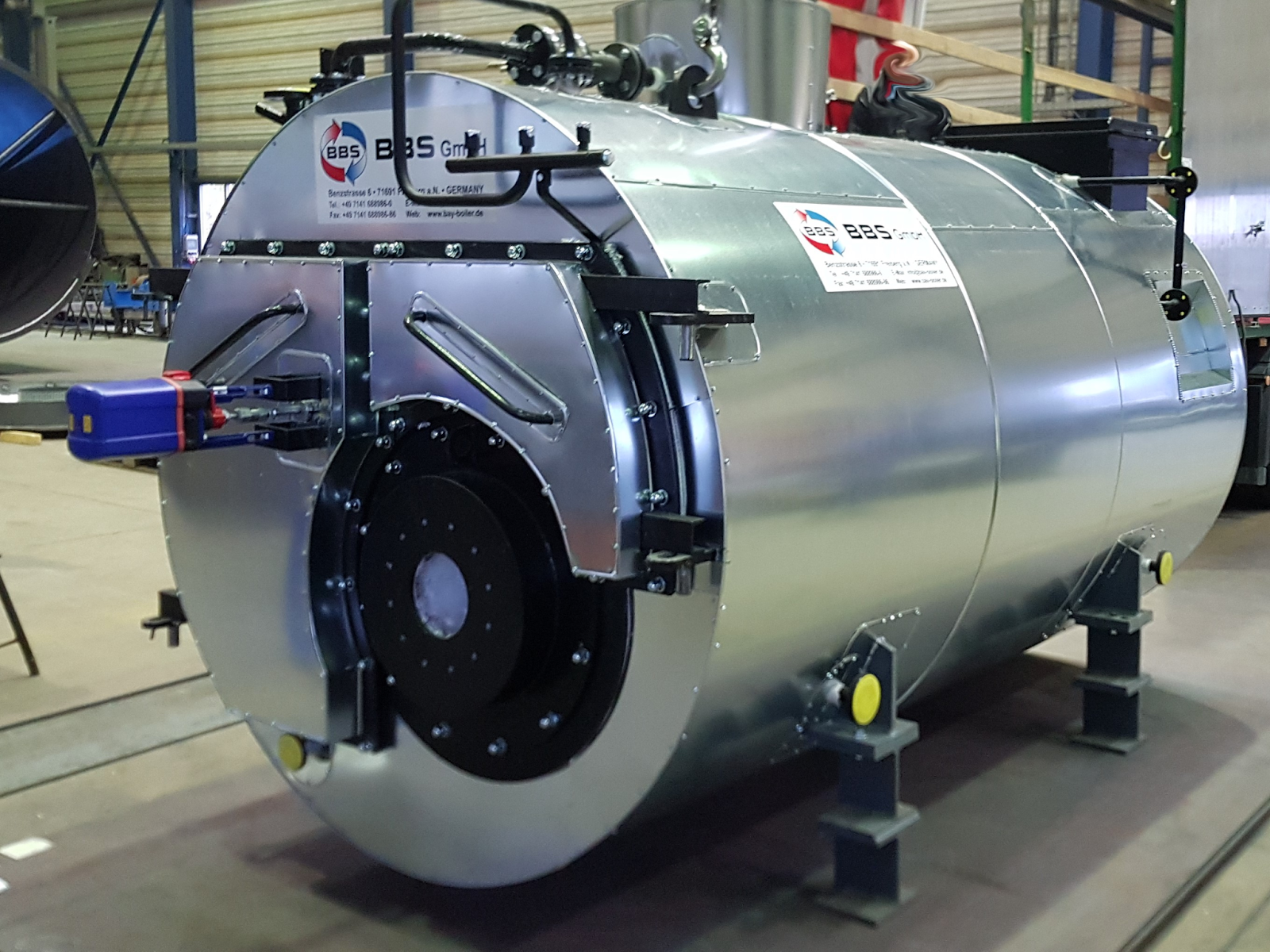 Image:BBS Division high-pressure marine steam boiler type HDK-M 1,000 with built-in steam superheater.
Installation Orientation Is Key
Marine heat generators and boilers are necessary for every vessel, although their orientation can make a significant operational difference. Smaller vessels only allow for vertical installations due to space constraints. A horizontal alignment is often more beneficial but not necessarily suitable for the ship's layout.  
For horizontal installation, clients can choose from the following:
3PSBM – Three passes of smoke steam boiler marine
3PSBMH – Three passes of smoke steam boiler marine high capacity
IFSBM – Inversion flame steam boiler marine
CSTMO – Coil steam generator marine horizontal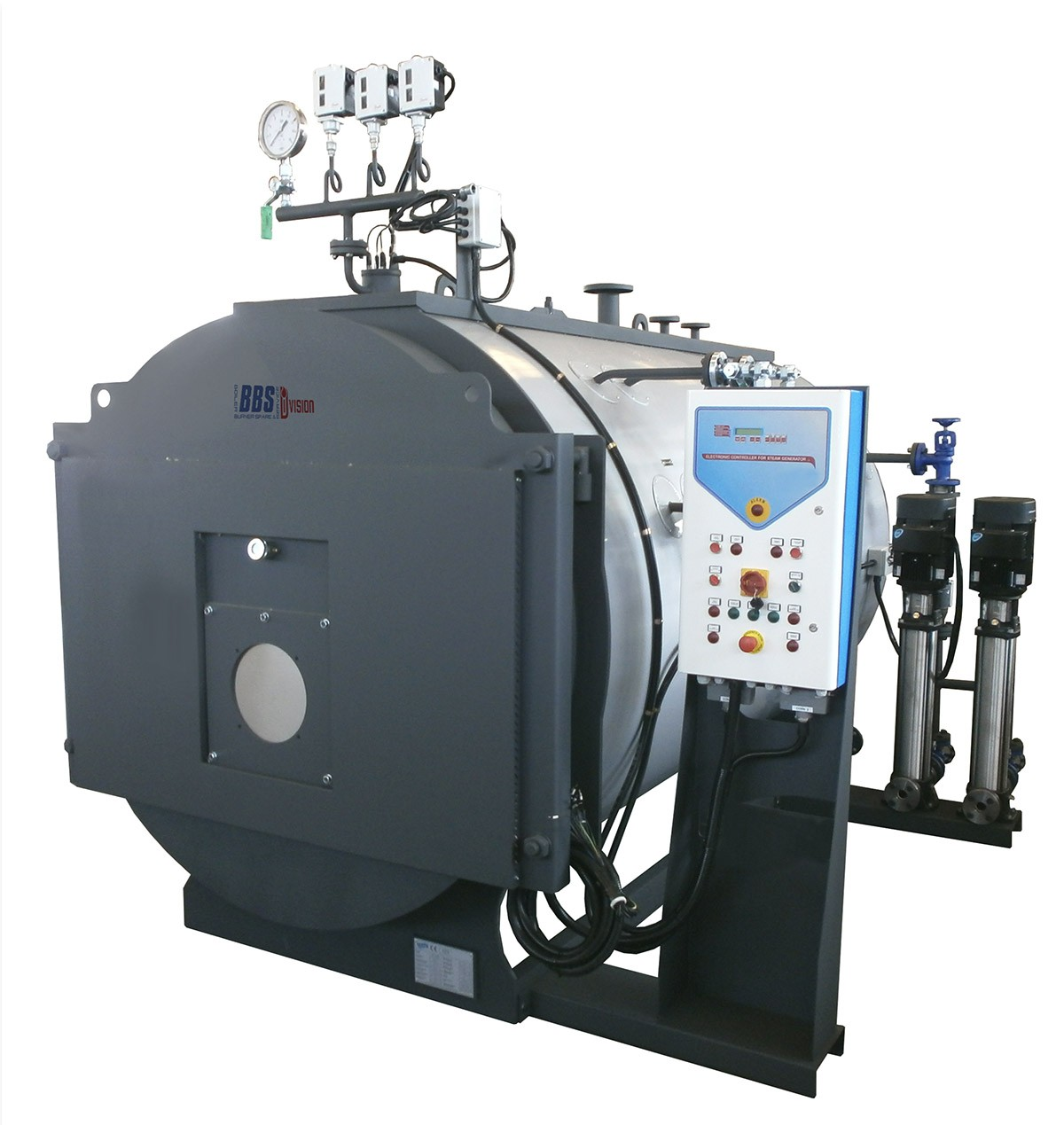 Image: BBS Division IFSBM – Inversion flame steam boiler marine
Conversely, for vertical installation, we offer the following options:
2PVM– Two passes of smoke steam boiler vertical execution marine
2PVMLM – Two passes of smoke steam boiler vertical execution marine lamont system
2PVMC – Two passes of smoke steam boiler vertical execution marine with exhaust gas recovery unit
CSTMV – Coil steam generator marine vertical
In addition, Breezemarine Group has solutions for hot water and superheated hot water boilers, economizers, diathermal boilers, and expansion tanks. More details can be found on this page. 
Best Practices Before Installation
Several factors must be considered when installing a boiler or steam generator on a ship.
First, you must ensure the vessel is in drydock (or on dry land). You can't install these components when the ship is on the water, so it's essential to have a plan for getting the ship into drydock.
Second, consider where you want your boiler or steam generator installed and how much area you have available. Then, you'll need to purchase a boiler or steam generator that fits your selected space.
Third, make sure that there is enough ventilation for the boiler or steam generator. Boilers and steam generators need to be able to release hot gases from their exhaust systems without causing any damage or fire hazard.
Finally, ensure that the area around your boiler or steam generator is well-lit and easy to access if repairs are needed in an emergency.
Maintenance And Repairs Are Essential
A maritime steam boiler should always provide the vessel with the necessary quantity and quality of steam. Some ships use a multi-boiler system known as a boiler plant. The steam consumption per vessel depends on several aspects, including auxiliary equipment, primary engine type, capacity, operational area, etc. 
As these boilers operate under precarious conditions –  high temperature, mechanical and cyclic loads, etc. – the structural elements are constantly under pressure. That makes conducting regular maintenance and repairs essential to minimize financial losses. 
A well-maintained boiler will provide the necessary steam for a long time. To achieve that goal, operators need to tap into modern water treatment programs and partner with providers who can access equipment and spare parts of all notable manufacturers. Breezemarine Group checks the right boxes, as we are official boiler equipment and spare parts dealers for various manufacturers:
Boilers, incinerators, and spare parts:
Garioni naval – all types
S-Man – all types
Atlas Incinerators – all types
IVAR – all kinds of boilers
AALBORG – all types

Riello – basic types
Weishaupt – basic types
Baltur – basic types
Garioni naval – basic types
BRUCIATORI – all types
ECOFLAME – all types
File Your Request With Breezemarine
Get in touch with BreezeMarine to start the process. Our experts will take all your data and ensure the boiler or steam generator is designed and installed per your specifications. We can accommodate any individual request, no matter how detailed it is. 
Get in touch with Breezemarine Group today for all your boiler and steam generator needs!