Heat exchangers are designed to transfer heat from a coolant with a higher temperature to a coolant with a lower temperature. In addition, they play an essential role in ensuring the uninterrupted, reliable, and economical operation of ship and power plant systems. Therefore, they are a must-have for every shipping vessel that wants to achieve smooth operations.
What To Look For In A Heat Exchanger
Ships use recuperative surface-type heat exchangers. Specifically, the heat carriers are separated by solid walls forming a heat exchange surface. In some cases, mixing-type heat exchangers are used, where heat exchange occurs with direct contact and merging of both heat carriers. 
Marine heat exchangers should be simple in design and reliable in operation. At the same time, the materials should exclude the occurrence of corrosion and erosion. In addition, the devices should be fine with the difference in temperature elongations of the housing and the heat exchange surface and shock loads. It is paramount to strike a balance between all of these aspects. 
Breezemarine offers various heat exchange systems solutions adapted to each client's needs. In addition, we can help you find the perfect coolers (aluminum, box cooler, charge air coolers, etc.) and condensers (Cargo, COPT, FC, or Steam) to suit your vessel.  
We also provide the installation and maintenance of the main types of heat exchangers, such as plate and brazed heat exchangers of various designs and capacities. Additionally, our team can design the heat exchanger of your liking based on a sample or technical drawing. 
A Wide Assortment Of Manufacturers And Parts
You can order new heat exchange plates for heat exchangers from ALFA LAVAL, APV, GEA, SWEP, and SONDEX manufacturers. Plus, you can install fully restored plate-frame heat exchangers with a required class certificate and a 6-month warranty period. We always test restored equipment to ensure it meets the necessary criteria.
We select seals for plate heat exchangers from various materials, such as nitrile, EPDM, butyl, viton, so they respond to the operating conditions. In addition, Breezemarine Group helps with the replacement and maintenance of already installed heat exchangers and organizes and carries out the installation of new heat exchangers. We have every solution you can think of!
Comparing The Different Heat Exchangers
ALFA LAVAL heat exchangers do not require maintenance, have a long service life, and are resistant to high temperatures and extreme operating pressures. Moreover, they can provide various functions, including refrigeration, heating, evaporation, and condensation. As a result, these heat exchangers are widely used in the industry.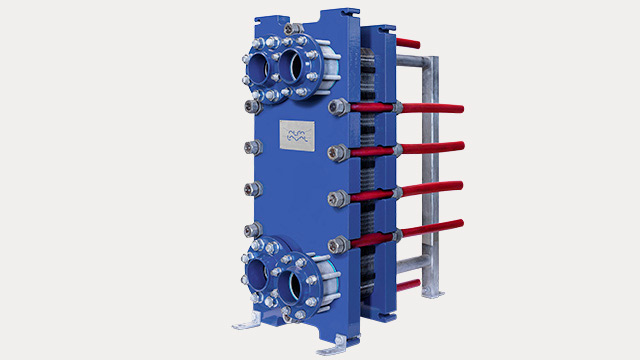 Image: ALFA LAVAL Marine semi-welded plate heat exchanger
APV plate heat exchangers are available in collapsible and non-disassembled versions. The ducts formed by the plates of APV heat exchangers have a larger cross-section than those of other manufacturers. Therefore, contamination of the ducts' cross-section occurs slower, increasing the maintenance period (from cleaning to cleaning) and reducing service costs. In addition, the corrugated notch on the plate allows uniform flow around the working surface of the plate and equalizes resistance along the duct's width. 
As a result, the plates have a different profile of the working surface and an area from 0.018 m2 to 3.8 m2. For plate heat exchangers, one of the defining dimensions is the diameter of the inlet connection. For example, in APV heat exchangers, the connection diameters range from 20 mm to 500 mm.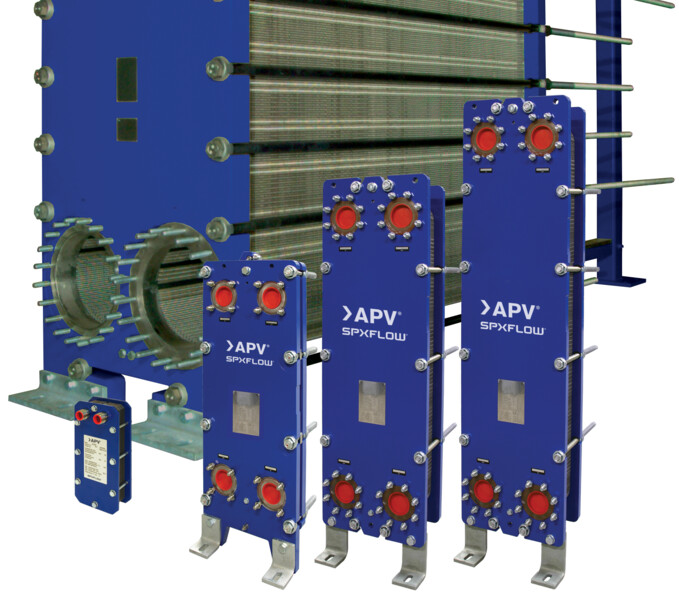 Image: APV plate heat exchanger
Collapsible GEA heat exchangers can be used at ambient pressure of up to 25 atmospheres, in ambient temperatures from -25 to +180 °C, and in working environments such as steam, refrigerants, and various liquids. Due to the high speed and turbulence of the flow, all plate heat exchangers are independently self-cleaned of the resulting scum. In addition, the plate seals in collapsible heat exchangers are fixed with special ECO- and LOC-IN technology. 
Those measures result in improved fastening of seals in the plates and achieving complete impermeability and tightness of the heat exchangers. Because heat exchangers' installed seals become much thinner during use, it is possible to use additional compression of the plates to reduce their size to a minimum. That may be a preferable option to changing seals. At Breezemarine, we always strive to give our clients as many options as possible!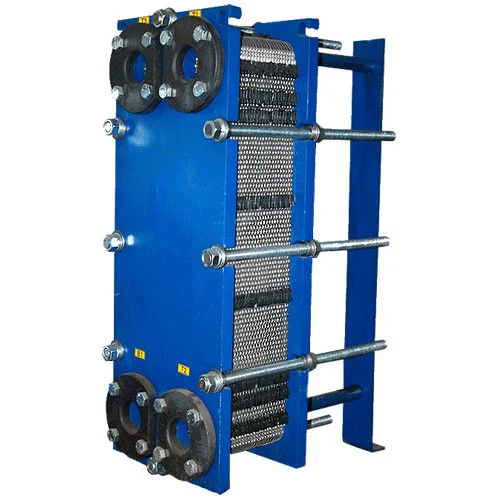 Image: GEA heat exchanger
Recommended Options To Consider
Plate copper-soldered SWEP heat exchangers occupy one of the leading positions in the market. They are used in the production and design of refrigeration units, liquid cooling units as evaporators, condensers, superheated steam coolers (desuperheater), and liquid-liquid heat exchangers between two coolants.
The unique construction of SONDEX plates ensures high efficiency and heat transfer. SONDEX supplies standard, soldered, semi-welded, welded plate heat exchangers and offers customized solutions. The heat exchanger plates' inlet area design allows a good liquid distribution over the surface. In addition, the area of inlet openings is enlarged and provided with notches that prevent the appearance of "dead zones" in which contamination may appear.
Combining plates with different fluting angles facilitates maximum heat transfer at specified pressure losses. The flow range of working intervals is located from 50 l/h to 2000 m3/h and above. As a result, SONDEX heat exchangers allow for complete disassembly, washing, and assembly by two workers within 4-6 hours.
Get Your Breezemarine Appointment Today!
Sifting through the various heat exchanger options is best done with the help of one of our Breezemarine experts. In addition, we can produce your desired heat exchanges based on preferred specifics and requirements. Submit a sample or technical drawing/specification to our team, and we will ensure you receive the optimal solution for your needs!
Breezemarine Group offers various solutions to your problems. We will carry out an on-board inspection, deliver equipment and spare parts, replace/design and arrange installation and subsequent maintenance support. Contact us for detailed information.