The main characteristic of a vessel's navigational abilities is maneuverability. Optimal results are achieved with the help of various systems and their components. Let's dive into one of the important ones- a propeller-steering system.
How Does A Propeller-Steering System Operate?
The main components of the steering device are:
The rudder

: depending on the vessel profile's shape, it can be flat (plate-shaped) or profiled (streamlined). There are balanced, semi-balanced, and unbalanced (ordinary) rudders.

Rotating nozzles

: classified based on the method of attachment to the vessel's hull and the presence of a stabilizer.

The baller

: Structurally, the ballers are made in various versions:

straight

(self-explanatory) or

curved

– when its axis below the supports does not coincide with the axis of rotation of the steering rudder or rotational nozzle.

Rudderpost:

an axis attached to the rudder. It transfers forces through the hull and leans on the bearings of the rudder. A removable rudderpost is attached to the sternpost in the upper part through a flange. In the lower part- through the conical connection.
In addition, the propeller device consists of a smaller number of principal components. However, there are significant differences between propeller types, such as:
controllable or fixed-pitch propellers,

steering columns,

Azipod-type columns.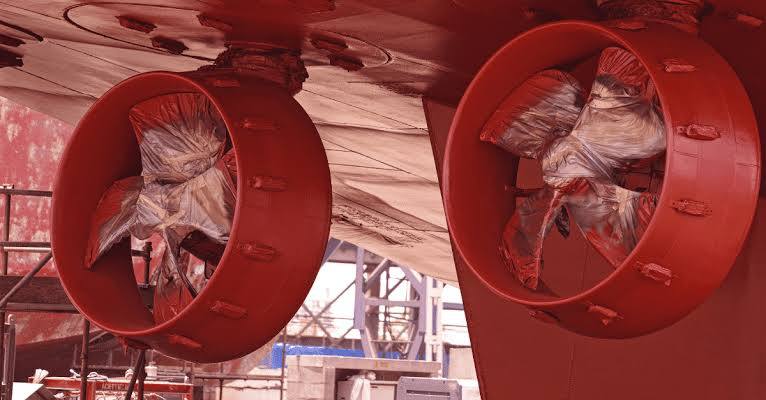 Image: marineinsight.com
What To Expect as an Owner/Operator?
The propeller-steering complex is one of the essential elements of the vessel. However, due to the peculiarities of its location and design, it is the most difficult one to maintain.
The primary concern in maintaining the propeller-steering complex is whether the vessel is afloat. That matters a lot because the maintenance of the vessel's underwater part incurs high technical costs.
In addition, another crucial aspect in repairing and maintaining the propeller-steering complex is the need to remove the shaft and seal various vessel parts and compartments. 
Whether your vessel is afloat or in a dry dock, or having its shaft dismantled or sealing is required, you can contact us and benefit from our expertise and experience.
Also, special attention should be paid to the registers' generally accepted standards and requirements. 
You will receive guaranteed certified equipment (IACS members) and complete reporting by contacting us. In addition, leading classification societies approve all the processes and materials provided by our company. 
Experience The Top-tier Breezemarine Group Service!
Breezemarine Group offers the supply and repair of marine propeller equipment and steering devices. We also provide comprehensive repair solutions, including final machining and on-site improvements. In addition, there is a possibility to order a cold straightening of bent propeller shafts and rudder beams for your needs. 
All the working processes will be done in the shortest possible time, considering the location of your fleet.
In our line of work, we join forces with our partners. These include the most famous European companies, such as MARINESHAFT Group A/S, BALINO, S.A., and others.