When vessels run into issues, there are many ways of addressing the problem. In the case of ALSTERDIEP, their electrical issue proved a bit much to handle for the local electrician. With the help of Breezemarine Group, the ship could continue its journey without incurring steep financial losses. 
ALSTERDIEP And The Tricky Electrical Issue
It is not uncommon for vessels to be hindered by circumstances beyond their control. The ALSTERDIEP, a general cargo ship sailing under the flag of Cyprus, ran into issues while using its gantry crane's lifting appliance. More specifically, the crane suddenly broke down amid day-to-day operations. After initial research, it became apparent there was an electrical issue, and the ship's team contacted a local electrician.
After some trial and error, the electrician acknowledged he was unable to solve the "Overcurrent" error. Although he checked he replaced all connections and the rectifier, the cargo lift remained out of commission. There was still a red blinking diode, and the same "Overcurrent" error remained. Even switching the previous rectifier back did not resolve the problem.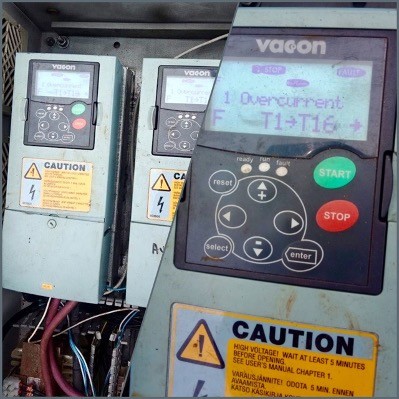 The more downtime a ship has, the more money it will cost the owner and captain. Any delay, especially for cargo ships, is unacceptable. Unfortunately, the electrical issue warranted a different approach. Ultimately, the electrician tried to release the electromotor breaker, and the electromotor was movable by hand. The only option left was looking at the frequency converter option card's input, which could cause these issues. Sadly, that is not an issue a local electrician can fix.
Breezemarine Group To The Rescue
At times like these, it is essential to reach out to industry experts. Breezemarine Group aided the ALSTERDIEP in analyzing the issue. 
Breezemarine sent a service electrician to ALSTERDIEP to find the issue and reprogram the frequency converter option card input accordingly. In addition, the electrician ensured all other electronic parts received a thorough inspection to ensure everything was in working order.
After analyzing the hardware and reprogramming adjustments, the ALSTERDIEP regained full control of its gantry crane's lifting appliance. The swift action by Breezemarine Group's electrician ensured the ALSTERDIEP did not suffer further delays, demurrage, or money lost. It is thanks to Breezemarine Group's swift action and expertise that ALSTERDIEP continues its proven track record as a reliable cargo ship sailing out of Limassol, Cyprus since 2008. 
Breezemarine Group specializes in providing crucial support, spare parts, and expertise to maritime clients. Get in touch with our team to ensure your maritime operations are always a breeze!